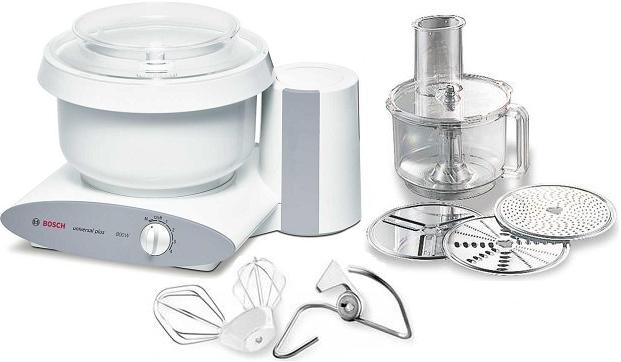 Bosch Universal Plus Mixer:
For years Bosch has manufactured the most durable & powerfull kitchen mixers available. Many know the Bosch Universal Mixer as the best mixer made. Bosch Has just introduced the brand new Bosch Universal Mixer Plus with many improved features. I know, hard to believe!
Slicer Shredder:
Includes: thick/thin slicing, fine/coarse shredding, & french fry disk.
Bosch Mixer Key Features:
Power: Now 800 Watts! (was 700) You can tell this mixer mixes the heaviest doughs with ease.
Capacity: This 6qt bowl now has a domed lid which combined with the increased power can mix 8 loaves of bread.
Ease of Use: The new bowl has a few great new features. Bosch has added a easy to use handle, and the all metal drive shaft is now easily removed with a quick twist for easy cleaning of any mess.
Stability: Bosch has added durable suction cup feet that hold the Bosch Mixer to any countertop surface. The bowl also locks on for stability when scouping things such as cookies out.
Speed Control: Another great feature is the addition of a 4th speed. The 1st speed now is half the speed of its predicessor. This makes incorporation light ingredients such as flour much easier. The 4th speed is also faster making various attachments such as the blender even more effective than before.

Kneading arm (Dough Hook), wire whips w/ whip drive, & slicer/shredder attachment

Optional attachments: citrus juicer, food processor, flaker mill, stainless steel bowl, meat grinder, berry press, pasta disks, sausage stuffer, pastry press.

Dishwasher safe parts and accessories. Parts are easily replaceable/repairable.

Powerful 800 watt motor (most powerful for a household kitchen machine) with an incredible three (3) year warranty.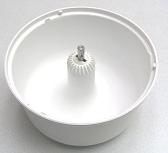 ADD AN EXTRA BOWL TO THIS GREAT MIXER FOR ONLY $49.95!! THINK HOW MUCH FASTER YOU CAN MAKE ALL YOUR FAVORITE FOODS. MAKE COOKIES IN ONE BOWL AND BREAD OR FROSTING IN THE OTHER. ENJOY!
Ideal for those who prepare foods with quality as well as quantity in mind. Renowned for quality craftsmanship and performance, Bosch continually provides the latest state-of-the-art design advances for the Universal. Your kitchen will be complete with this extraordinary mixer and wide assortment of optional accessories and attachments. The Bosch Universal is superbly engineered to provide you with many years of service and cooking enjoyment. You can always count on Bosch for high quality, sophisticated engineering and the ultimate in warranty protection. The Universal and its many attachments provide all of the advantages that cooking professionals and novices the world over desire.
Optional Accessories - click for more info
ADD THE NUTRIMILL GRAINMILL FOR ONLY 239.99!!