Porcelain Butter Keeper Square - $14.95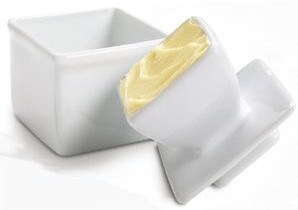 Keeps butter fresh, soft and sweet for up to 30 days without refrigeration!
Water seals out air keeping butter freash, soft and spreadable.
Instructions:
By insulating, protecting and cooling butter, you can maintain it at a perfect spreading consistency. Water is used to provide an airtight seal protecting the flavor and freshness.
Add 1/2 cup of cold water to basin.
Invert top and fill with one stick of softened butter. (soften butter by placing on counter for 5-10 min.). Holds up to 1/2 cup (1 cube of butter).
Pour cold water into the base of the crock.
Place the lid / holder upside down back into the crock.
Dishwasher Safe

For best results - the butter keeper should be stored away from direct sunlight or heat (stove, fridge, etc.) and replacing the water fresh every three days will also help keep freshness!

Price: $14.95