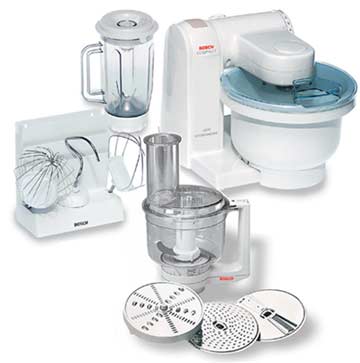 Bosch Compact Special
Includes whip, whisk, dough hook, blender, & food processor.
The bosch compact has been in the US since 1981. These little machines have been wonderful. They are the best selling machine in Europe. With a powerful 400 watt motor and a 4 quart bowl it can whip a single egg white into beautiful Meringue with its gourmet whisk. Make a beautiful batch of cookies, I have made a double batch of cookies using the recipes on the back of the chocolate chip packages and the compact handles it fine. I did have to stop it once or twice and push the dough down that gathers high on the inner wall of the bowl, no bother to me compared to other kitchen mixers I have used.
The wire whip mixes batters beautifully. The planetary gear system moves the whips and dough hook in such a way that nothing, comparatively, is left on the bottom or the sides of the bowl. The dough hook powerfully kneads any bread or heavy dough including 100% whole grain breads.
Accessory Stand NO longer available
Click here to view all attachments
Optional attachments:(click images to purchase/view)