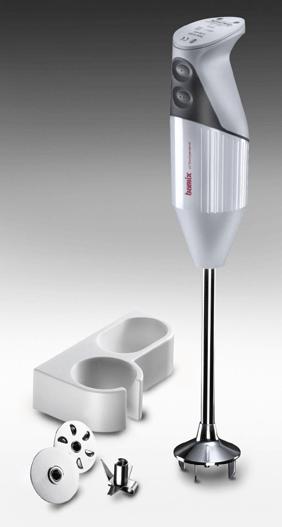 Also known as the Bamix Gastro Stick Blender!
This model is designed for restaurant and commercial use. It is also great for those who want the best! The shaft is extended to 7 1/2 inches. (That's an extra 2" over the deluxe and mono models.) and has a more powerful 200W motor, sealed buttons so that moisture can't get in. This unit is designed so that you can submerge the unit to just below the buttons.
A must for every Chef
Our Professional (GASTRO) is a quality, Professional Hand Held Food Processor designed and produced for Modern Commercial Kitchen.
Besides the easy cleaning, the greatest advantage of the Bamix Professional (GASTRO) is the fact that you can work directly in any container or even in the pot on the stove i.e.no need to pour food from one container into another.
The GASTRO strains and blends sauces in quantities up to 20 liters - liquidizes and homogenizes soups -stirs creams, pancake and omelet mixtures - chops, purées and liquidizes vegetables and fruit - makes mayonnaise in seconds - whips cream and egg-white - even crushes ice cubes and frozen fruit...
...and it is cleaned in seconds!
Key Features:
Bamix® can do almost everything a large food processor can do - and it does it in any receptacle, even in a pot on the stove.
Bamix® mixes, purées, emulsifies, aerates, chops, grinds etc.. It works extremely small but also large quantities. This is the reason why Bamix® is used on a daily basis.
Bamix® does a maximum of work with a minimum of accessories. Bamix® is extremely handy, amazingly light-weight, requires a minimum of space, and it is cleaned in seconds!
Bamix® is produced using the finest materials and with ultimate precision. The motor is exclusively designed for Bamix® and is manufactured entirely in Switzerland. The drive shaft is a high precision assembly with extremely tight tolerance.
Bamix® is guaranteed whisper-quiet and vibration-free.
Standard accessories:
Multipurpose blade
#64307
(USA/CDA: #64302)
Chops raw or cooked vegetables and fruit, frozen fruit for ice-cream. Strains vegetables for soups and sauces. Purées baby food direct in the pan on the stove (no pouring from one container to another plus washing-up). Mixes doughs for cakes, biscuits or pancakes. Liquidizes fruit and berries for sweets and jams. Crushes ice-cubes in seconds.
Beater
#64303
(USA/CDA: #64304)
Beats mousse and egg-whites. Whips cream and even skim milk into a diet topping. Blends sauces (béchamel, hollandaise) Homogenizes and aerates shakes and creams. Foams up cream soups and different foam desserts. For everything which should be light and fluffy.
Whisk
#64305
(USA/CDA: #64306)
Stirs and creams pancakes, omelets and batters. Mashes potatoes. Creams puddings. Emulsifies salad dressings - and even cosmetics. You whisk your mayonnaise within seconds (and it is natural, without additives and preservatives!). You can mix your cocktail drinks better than a bar-keeper. For all mixtures with a thick or cream consistency.
Wall-bracket
#64120
Stores and makes easily accessible the bamix and its plug-on workheads. Installed over your working surface, bamix is always to hand..