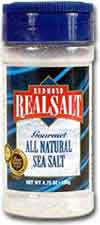 Real Salt Shaker
Is Your Salt Real? ®

Long before the earth knew pollutants of any kind, a huge, ancient sea covered what is now North America. Pure, natural salt was the main ingredient of this sea, and over millions of years, the water evaporated, leaving the salt in undisturbed deposits. At some point during the earth's Jurassic era, a range of volcanos erupted around the ancient sea bed, sealing the salt with layers of thick volcanic ash, protecting these precious deposits against the pollution that man would eventually introduce into the environment. Near the small town of Redmond, in central Utah, approximately 200 miles south of Salt Lake City, we extract this hand-selected salt from deep within the earth, and bring it to you in its pure, natural state-without any additives, chemicals, or heat processing. This is RealSalt, full of flavor and natural goodness-the way salt was meant to be savored!

The RealSalt® Difference

Compared to RealSalt brand salt, many sea salts appear stark white because they have undergone a harsh refining process. Unlike RealSalt, these salts are filled with silicates, dextrose, and other additives. By contrast, RealSalt is an all-natural, kosher-certified sea salt extracted from deep within the earth, crushed, screened, and packaged. RealSalt's unique flecks of color are the result of more than 50 natural trace minerals essential to human health (including natural iodine!). Experience the goodness of RealSalt!


What are the Colored Specks in RealSalt?

RealSalt's unique "pinkish" appearance and flecks of color come from more than 50 natural trace minerals, including iodine. By contrast, other so-called "table salts" are white because of bleaching and refining.

What are the Health Benefits of Salt

"[S]odium is crucial for maintaining the health of every cell in the human system. It permeates the fluid between cells (often called the 'extracellular fluid') and potassium exists mainly on the inside of the cells (in the 'intracellular fluid')…If either of these minerals is deficient or in excess, cell permeability becomes compromised and the health of all the cells suffers.

Besides being a component of extracellular fluid that bathes every living cell, sodium is important in two other 'salty oceans' in the body–our blood and our lymphatic fluid. It is also necessary for the production of hydrochloric acid, the digestive enzyme secreted by the stomach in order to digest protein. Along with potassium, sodium is required for the proper functioning of our nerves and the contraction of our muscles…

With the many crucial roles sodium plays, it's clear that if we had no sodium, we would cease to exist." ²

Gittleman also notes that "[R]educing sodium too much can be just as harmful as consuming large amounts of it. Too little can cause spasms, poor heart rhythms, sudden death and even increase the risk of heart attack in hypertensive patients." ³

Price List:
$2.99: 4.75 oz.
$4.99: 9 oz.