Fearn Liquid Lecithin (2 Sizes)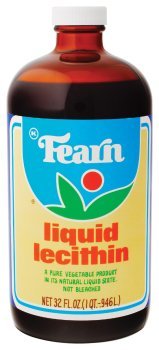 We love this in whole grain bread! We add 2 Tbsp. to 14 cups of flour and we get softer, moister loaves of bread. This is wonderful.

Fearn liquid lecithin contains as much lecithin in one tablespoon as twelve 1200 mg lecithin pearls or 1½ level tablespoons lecithin granules. Add lecithin to sauces, salad dressings and gravies, simply mix 1 Tbsp. of liquid lecithin into hot sauces and gravies, or replace 1 Tbsp. of oil use in salad dressings or baked goods. Liquid lecithin may be whipped into softened butter, margarine or peanut butter.

Price List:
$7.99: 16 oz.
$12.99: 32 oz.