Nordicware Classic Bundt Pan- $31.99
This classic bundt pan gives you the perfect bundt cake every time! Because the Nordicware brand gives you a uniform cook every time, you don't have to worry about an uneven cake. You also will get a delicious golden crust every time becasue of the excellent heat conduction of these pans. If you love your cakes coming out of the pan, (who doesn't right?) then this is the pan for you!
6 Cup capacity
8" diameter, 2 7/8" Depth
Heavy Cast Aluminum Provides Superior Baking Performance
Platinum Bakeware comes with a Limited Lifetime Warranty.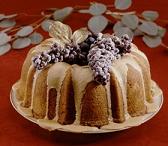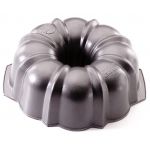 Butterscotch Rum Ripple Cake

1 cup butter or margarine, softened

2 cups sugar

1 cup commercial soour cream

3 cups sifted flour

1 tsp soda

1 tsp salt

1 tsp vanilla

1 tbsp rum extract

1 pkg instant butterscotch instant pudding. ( 3 3/4 oz)

3/4 cup butterscotch ice cream topping

1 egg

In large bowl, combine first 9 ingredients and beat 3 minutes. In small bowl,

combine 2 cups of prepared batter, pudding mix, ice cream topping, and egg; beat 1 minute

Spoon half of cake batter into greased and floured 10 or 12 cup Bundt pan.

Add half of the butterscotch batter. marble the layers with a knife, using a folding motion

Repeat with remaining batters. Bake at 350 degrees for 1 1/4 to 1 1/2 hours or until tests done.

Cool in pan 10-15 minutes; turn in pan onto serving plate or cooling rack to complete cooling.

Top with butterscotch glaze and decorate with chopped nuts.

Price: $31.99